Share God's peace to the ends of the earth
At times it's nearly impossible to see and feel the awe of God's divine plan. Everywhere we turn we see suffering—from war, conflict, death and destruction. Despite the turmoil around us, there is hope! 
St Vladimir's Seminary continues to send men and women into the world to share God's everlasting peace.
But it is through your generosity that St Vladimir's can prepare individuals to go out into the world and proclaim God's truth. To build healthy parishes, which in turn build healthy communities, healthy people, and a healthy world.
Pray.
TOGETHER, WE ARE COMPELLED TO PRAY CONSTANTLY.
Prayer, especially corporate prayer, ensures we never lose sight of the reality that we are participating in God's plan to redeem the world. At St Vladimir's, our seminarians are taught to restore within everyone a sense of the Holy centered on the communal experience of the Eucharist. As a residential community, we lean into the Liturgy and offer constant prayer to God, for the life of the world.
Pursue.
TOGETHER, WE ARE COMPELLED TO PURSUE CONTINUOUSLY.
Personal transformation into the likeness of Christ is the solution to the growing desperation in the world. At St Vladimir's, our seminarians are taught to desire personal transformation by inspiring a profound and ongoing conversion in Christ. This transformation is not just an abstract idea—it is an authentic, personal, ongoing relationship with Christ.
Proclaim.
TOGETHER, WE ARE COMPELLED TO PROCLAIM COURAGEOUSLY.
The Gospel must be spoken—even when the words fall on deaf ears. At St Vladimir's, our seminarians are prepared to share Hope with the world by demonstrating an unwavering commitment to the Truth of the Gospel. For such a time as this, the world needs pastors who are missionary-minded, courageous, and compassionate.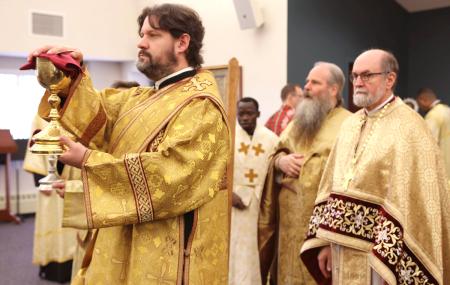 Top: Adn Joseph Matusiak (Class of 2006), deacon at the Cathedral of the Nativity of the Theotokos in Wrocław, Poland, serves the Divine Liturgy at St Vladimir's Seminary.
Bottom: Pavlo Kurganov (Class of 2024), left his home and family in Kyiv, Ukraine to attend St Vladmir's Seminary.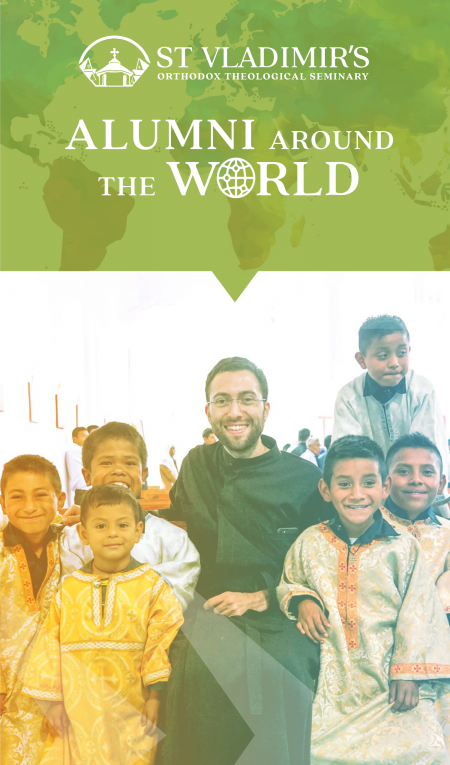 GRADUATES OF ST VLADIMIR'S ARE SPREADING THE GOSPEL IN 47 COUNTRIES AROUND THE WORLD.
We are hearing stories from our alumni in Guatemala, Norway, South Korea, Mexico, all over North America, and elsewhere. These men and women are exhibiting the type of missionary leadership the world needs for such a time as this.
Through your faithful support, we've been sending courageous priests and lay leaders willing to follow Jesus into the farthest and darkest places. It is your generosity that is ensuring the future of Orthodoxy, the strength of individual parishes, and the ability to continue to send priests on mission to be catalysts for the Gospel until the whole world hears and knows the hope that is eternal and the light that will never grow dim.
You will receive an email confirmation after your gift has been processed. We will also mail you an official tax-deductible receipt. Should you have any questions regarding any type of gift, or if you would prefer to make your credit card gift over the phone, please contact the Office of Advancement ( advancement@svots.edu) at (914) 961-8313 x360.
You are welcome to review our audited financial statements and Annual Reports, which reflect our prudent care of gifts entrusted to us, and to contact us about becoming a partner with our seminary.
Frequently Asked Questions
Yes, your gift to St. Vladimir's—a 501(c)3 nonprofit organization—is tax deductible as allowed by law and a receipt will be issued for your gift. Year-end gifts must be postmarked December 31st in order to be recorded in that same tax year.
process the transaction for which it is intended. This site utilizes industry standard Secure Sockets Layer (SSL) servers to encrypt your information and prevent unauthorized access.
Shortly after a donation or refund is processed, you will receive a confirmation via email. You are advised to print out and save a copy of this verification confirmation for your records.
Most donors give to the Seminary Fund for unrestricted giving directed to areas of the highest need and impact. Our online giving forms offer additional several options.
If you would like to make a contribution a specific scholarship fund or other special initiative, please contact: Sharon Macrina Ross, Director of Institutional Advancement, at sross@svots.edu or 914-961-8313 ext. 317.
• Credit card gifts can be made online or over the phone: (914) 961-8313 x360.
• Checks, with the attached form, should be made payable to "St. Vladimir's Seminary" and mailed to:
St. Vladimir's Seminary 
Office of Advancement
575 Scarsdale Road 
Yonkers, NY 10707
Many of our donors have retired from companies that continue to match even after they are no longer employed full time. Just type your former employer's name in the box below to find out more.
Yes! Just include the name in the box provided and enter the address of the honoree or family member in the comments section of the online donation form. Or include a note with your mailed donation explaining your intent. If you wish us to inform the honoree or the relatives of the deceased of your gift, please include their address with your donation.
Gift Acceptance Policy
For details on the types of gifts the Seminary can accept, please see the attached policy.
Questions?
Still have questions? Want to update your address or credit card information?