Image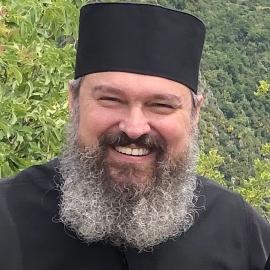 The Rev. Dr. Silviu N. Bunta
Associate Professor of Old Testament
Fr. Silviu grew up in Romania. He and his family moved to the United States and he studied ancient Judaism and Christianity at Marquette University with Deirdre Dempsey, Archbishop Alexander Golitzin, and Michel Barnes (among others). Since 2007 he has taught as Bible faculty at the University of Dayton, where he is currently an associate professor. He was ordained to the diaconate and the priesthood in 2012 and serves under the omophorion of Archbishop Alexander (Golitzin) in the Orthodox Church in America (OCA).
Educational Background
Ph.D. in Hebrew Bible/Old Testament, Marquette University 1999-2005 
M.A. in Hebrew Bible/Old Testament, University of Oradea, Romania 1997-1998 
Undergraduate studies in Classics, University of Cluj, Romania 1996-1998 
B.Div. in Orthodox Theology, University of Sibiu, Romania 1993-1997
Teaching Interests
Hebrew Bible/Old Testament, Second Temple Judaism, ascetical and mystical traditions in ancient Judaism, scriptural hermeneutics in ancient Judaism and Christianity (including inner-scriptural exegesis), the Orthodox reading of the Scriptures.
Current Projects and Research Interests
Fr. Silviu is currently finishing two monograph projects. One provides a close look at the scriptural roots of Jewish mediatorial traditions from the late Second Temple period and the other is a critical edition and translation of the Romanian recension of the Life of Adam and Eve. As soon as these projects are finished, he will begin translating, with Archbishop Alexander, half of the works of St. Dionysius the Areopagite, under contract with St. Vladimir's Seminary Press. 
In his spare time he loves translating liturgical texts and is currently working on the translation of the Ierodiakonikon of the Simonopetra monastery (to be published in 2021 by Cherubim Press).
Recent Courses Taught at SVOTS
OT 442: Perpetual Sinai: Inner Old Testament Hermeneutics.
Selected Publications
Among his most recent publications: 
"Jewish Mysticism in the Second Temple Period," forthcoming in Spieckermann, H. (ed.), Encyclopedia of the Bible and Its Reception. Berlin, New York: W. de Gruyter, 2012-: 
"Tradition: Generated by Scripture or Generating Scripture?," forthcoming in The Oxford Handbook of the Bible in Orthodox Christianity. Oxford, UK: Oxford University Press, 2021. 
"The Voices of the 'Triumphant Hymn': The Orthodox Sanctus as a Christian Merkabah Text," St. Vladimir's Theological Quarterly 64/1-2 (2020): 93-127. 
"Driven Away with a Stick: The Femininity of the Godhead in y. Ber. 12d, the Emergence of Rabbinic Modalist Orthodoxy, and the Christian Binitarian Complex," in Orlov, A. A. (ed.), Jewish Roots of Eastern Christian Mysticism Studies in Honor of Alexander Golitzin. Vigiliae Christianae Supplements. Leiden: Brill, 2020, pp. 66-84. 
"Reversing Genesis 3,6-7: Adamic Traditions in the Cursing of the Fig Tree (Mk 11,12-14.20-25; Mt 21,18-22)," in Sfânta Scriptură în Istorie și Tradiție. Volum Omagial Păr. Prof. Vasile Mihoc (Sacred Scripture in History and Tradition. Festschrift Pr. Prof. Vasile Mihoc). Sibiu, Romania: Editura Andreiana, Colectia Theologia Universitaria, 2019, pp. 111-144.
Recent Conference Presentations and Activities
"For a hermeneutics of death: death and exegesis in 2 Cor 3-6," The Romanian Academy—West University of Timisoara, Timisoara, Romania (November 13, 2019). 
"In defense of inheritance: Thoughts on a new Orthodoxy, non-traditional," Symposium Polis & Paideia, West University of Timisoara, Timisoara, Romania, (November 9, 2019). 
"For a Hermeneutics of Death: An Essay on the Reading to which Tradition Writes," Bridging Voices: Orthodoxy and Modernity, Fordham University-University of Exeter-University of Oxford, Oxford, England (August 17, 2019). 
"In the Words of Scripture: An Ascetical-Mystical Reading of Rom 2:8–9 and 2 Cor 4:8; 6:11–13," Society of Biblical Literature International Meeting, Biblical Interpretation in Early Christianity section, Pontifical Biblical Institute, Rome, Italy, (July 3, 2019). 
Session chair, Society of Biblical Literature International Meeting, Hellenistic Judaism section, Pontifical Biblical Institute, Rome, Italy (July 2, 2019). 
"Hebrews 9 and the Temple-Sinai Tradition: A Reinterpretation of "Covenant," Society of Biblical Literature International Meeting, Epistle to the Hebrews section, Pontifical Biblical Institute, Rome Italy (July 2, 2019). 
"Theophaneia: A Theological Vision," International Orthodox Theological Association, Iasi Romania (January 10, 2019).