Image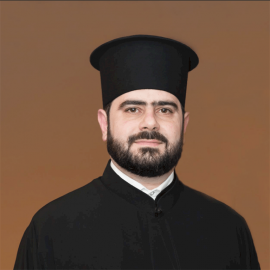 The Rev. John El Massih
Antiochian Liturgical Music
The Rev. Rassem El Massih was born and raised in Anfeh, Lebanon, where he studied Byzantine Chant under the tutelage of the renowned teacher Fr. Nicholas Malek, receiving his certification at the age of 18. After immigrating to the United States, Fr. Rassem enrolled in Hellenic College in Brookline, MA, graduating with a Bachelor of Arts degree in Religious Studies. He continued on to Holy Cross Greek Orthodox School of Theology, where he graduated with a Master of Divinity degree in December of 2013.
During his time at Hellenic College and Holy Cross, Fr. Rassem continued to study Byzantine Chant under noted instructors Photios Ketzetzis and Dr. Grammenos Karanos. He also was a key member of the school's Saint Romanos the Melodist Choir, as well as a member of the Greek Orthodox Archdiocesan Choir, the Choir of St. Mark, and Duniya.
In 2009, Fr. Rassem directed a CD project entitled "The Voice of the Lord: Selected Hymns from the Feast of Theophany." He served as the Protopsalti of St. George Antiochian Orthodox Church in Boston until his assignment in summer of 2013 as an assistant and chanter for His Eminence Metropolitan Philip. This assignment includes teaching Byzantine music to the seminarians of the Antiochian Archdiocese studying at St. Vladimir's Seminary.
Father Rassem was ordained to the holy priesthood by His Eminence, Metropolitan Joseph on August 30, 2020 at Ss. Peter & Paul Antiochian Orthodox Christian Church, Potomac, MD.