Image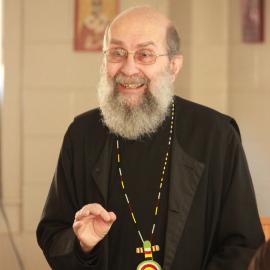 The Very Rev. Vladimir Aleandro
Growing up in an Italian coal mining family in Pennsylvania, Fr. Vladimir's world opened up in 1957 when he was first introduced to the Orthodox Church and the suffering Christians of Russia and Romania. He entered St. Joseph Seminary in Callicoon, NY in 1959 as a Byzantine Rite Franciscan. Upon completion in 1963, he was received as a novice in Holy Dormition Monastery, Sybertsville, PA, and given the name Vladimir. From 1963-1969, Fr. Vladimir lived at Holy Protection Monastery in New Canaan, CT.
Later, Fr. Vladimir left the monastery and taught elementary school for four years and worked as a Guidance Counselor in Trumbull CT for twenty-eight years, retiring in 2000.
Father Vladimir and Matushka Suzanne have been married forty-one years. For the past thirty nine they have lived in Oxford CT, on a small farm, Stone House Farm. They are blessed with two children and five grandchildren. In 1991, along with the Koblosh Family, he celebrated the first Liturgy of Christ the Savior Mission in the family living room. He was ordained a deacon in 1992, a priest for the mission in 1995, and since then has served as its rector. A beautiful church was consecrated in 2005.
The Aleandros' lives changed and became even more animated with mission zeal in 2007 when Mat. Suzanne and Fr. Vladimir answered the call to lead the first OCMC Mission Team to Turkana Kenya. Since then they have been back five more times, leading and taking part in the building of three churches, building a school, evangelizing, teaching, and helping install two wells and grain mills. In Turkana they are known as "Mama Apua and Papa Emoru." They are most grateful to the Turkana people for being their teachers in living the Gospel.
Educational Background
B.S., St. Joseph Seraphic Seminary
M.S., Sacred Heart University
M.Div., St. Vladimir's Orthodox Theological Seminary
Recent Conference Presentations and Activities
Many presentations for the Orthodox Christian Missions Center (OCMC) regarding Orthodox Christian ministry and missions work.