Image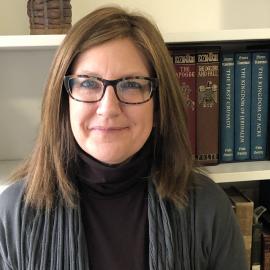 Dr. Tracy Davis Gustilo
Assistant Professor of Theology
Tracy Davis Gustilo studied philosophy and biology as an undergraduate at the University of Chicago and proceeded to get a Ph.D. from the University of California (Davis) in Ecology, writing a dissertation on environmental ethics. For many years she was involved in classical education in the homeschool setting and took special interest in the trivium arts of grammar and rhetoric. Seeing how important classical rhetoric was to the Church Fathers, and to cultivate a long-standing interest in Orthodox theology, she earned first an M.A. and then a Th.M. at St Vladimir's Seminary, focusing on the patristic writings of St Irenaeus and the paschal theologies of Melito, Origen, and Gregory the Theologian. Her ongoing research on the paschal feasts -- to include Palm Sunday, Ascension, and Pentecost -- integrates the primary sources of Scripture, the Church Fathers, and Orthodox Liturgy with contemporary philosophical approaches to aesthetics and political theology. Missionary teaching in Madagascar, South Korea, and Uganda has convinced her that Christian paschal theology must find its heart in the mission setting and in intercultural dialogue, as well as in the beauty of the sacred arts and the natural world.
Educational Background
B.A. in Philosophy and Biology, University of Chicago
M.A. St Vladimir's Orthodox Theological Seminary
Th.M. St Vladimir's Orthodox Theological Seminary
Ph.D. in Ecology (Environmental Ethics), University of California – Davis
Teaching Interests
Theological Aesthetics
Political Theology
Comparative Theology & Mission
Ecology & Creation
Philosophy for Theologians
Current Projects and Research Interests
Dr. Gustilo's research interests hover at the interface of theology and philosophy, asking especially how the classic Christian sources of Scripture, Liturgy, and the Church Fathers can speak in a "festal philosophical mode" for today as a liturgical love of wisdom and beauty. She is working on two books, one a theology of Pascha for Christians, the second a project in comparative philosophy.
Recent Courses Taught at SVOTS
Grammar for Greek and Rhetoric
Introduction to Theological Writing
Theological Aesthetics
Introduction to Biblical Greek
Recent Conference Presentations and Activities
2020, St Innocent (OCA) parish, "Paradise in the Desert: a Paschal Ecology for Lent" (retreat)
2020, SVS Student Academic Symposium, "Becoming Human, Becoming God: From Slavery to Freedom to Divine Captivation" (keynote address)
2019, SVS Faculty Seminar, "The Scripture Art and Power(s) Politics of Paschal Liturgy" (presentation)
2019, Halki III, "Theological Formation and Ecological Awareness: A Conversation on Education and the Environment" (chaired session on "Developing an eco-theological curriculum"; participation in ongoing working group)
2019, IOTA, "Pascha as Spectacle: Then and Now" (conference paper)
2018, OTSA, "Leaping Lessing's Ditch: Prospects for a Theological Aesthetics of Liturgy" (conference paper)
2017, OTSA, "An Orthodox Reflection on Some Key Concepts in Giorgio Agamben's Theological Politics" (conference paper)