Igumeni Ines Ayau Garcia
Doctor of Humane Letters (honoris causa)
18 May 2013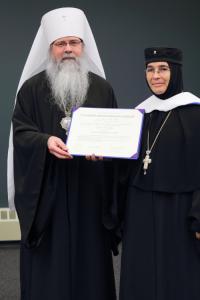 Met. Tikhon presenting Mother Inez with honorary doctorateIgumeni Ines Ayau Garcia (Madre Ines) was born in 1951 into a prominent Guatemalan family with a long history of service in this Central American country. She was educated through high school at the Instituto de la Asunción and then attended Marian College in Indianapolis. She returned to Guatemala to study architecture at the Universidad de San Carlos De Guatemala. This is a discipline that she has used in her oversight of many building programs including the Orphanage and Monastery.
In 1972 the now Sister Ines began to study theology at the Universidad Francisco Marroquin, a school founded by her father, Dr. Manuel Ayau. Always eager for more, she then went to Mexico to study Scripture at the Institiuto de Sagrada Escriptura Santo in 1975, followed by French and Religious Studies with the Assumption Sisters in Paris, France.
After further studies in both Belgium and Brazil, she graduated cum laude in Theology from UFM in Guatemala in 1983 before departing for the Philippines in 1983, where she served as a professor of theology at Assumption College, Makati, Metro Manila.
During additional studies of Scripture and Archeology in Jerusalem, she became convinced of the truth of Orthodoxy. In 1993 she was received into Orthodoxy by Archbishop Antonio Chedraoui of Mexico City and elevated to Igumeni in August 1994. In 1995 through the tireless efforts and courage of Mother Ines and her Sisters, the Antiochian Orthodox Church was formally founded and recognized in Guatemala.
In 1996 the nuns received from the government the centennial orphanage, Rafael Ayau to be turned into an Orthodox Orphanage and first Orthodox Parish in Guatemala. A close relationship was now formed with the Monastery of the Transfiguration in Ellwood City, PA.
Since then, hundreds of orphans have been adopted around the world through the Hogar Rafael Ayau Orphanage, and many have found a new home and family there. In 2007 the beautiful Holy Trinity Monastery Church was consecrated and this past year saw the completion of the new home for children on the monastery grounds. Last year also saw the founding of the Open E Learning University Rafael Ayau to serve Spanish speaking Orthodox Christians and other seekers.
The Hogar has received hundreds of missionaries both short term and long term and has received teams from both St. Herman and St. Vladimir's Seminaries. As missiology is further developed at SVOTS it is anticipated that there will be an even stronger tie made between the two institutions as Orthodoxy continues to take root in Guatemala at a very rapid pace. 
CITATION
The Great Commission at the conclusion of St. Matthew's Gospel tells us to "Go, therefore and make disciples of all the nations, baptizing them in the name of the Father and of the Son and of the Holy Spirit, teaching them to observe all things that I have commanded you."  Madre Ines, the rapid pace that characterizes your life reflects your deep sense of urgency that God has called you to embrace this dominical command and not to delay: 
Your entire adult life has reflected your desire to learn and to become all that was needed to be a missionary to your people in Guatemala; 

Building on a strong foundation—the sense of obligation to serve others that you inherited from your Ayau family, your solid educational background, and the support of the sisters who have stood with you—you have been instrumental in helping the Orthodox faith to set down deep roots in Guatemala;

Like St Nina you are apostolic in Central America; 

Like Ss. Cyril and Methodius you are an advocate and promoter for Orthodox material in the Spanish language;

Like St. Herman, you are a defender of orphans and the poor;

A bold and courageous Abbess, you have become an inspiration for many beyond the borders of Guatemala, and your ministry has reached around the world.

Therefore, it is with great honor that:

By virtue of the power vested by the Board of Regents of the University of the State of New York in the Board of Trustees and the Faculty of St. Vladimir's Orthodox Theological Seminary, and by their unanimous decision, the degree of Doctor of Human Letters (D.H.L.) honoris causa is bestowed upon the honorable and Christ–centered missionary, Madre Ines Ayau Garcia.