Image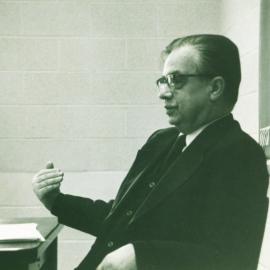 Serge S. Verhovskoy
1907-1986
PROVOST
PROFESSOR OF DOGMATICS
In Memoriam: Serge S. Verhovskoy
By Fr. John Meyendorff
Adapted from publication in St Vladimir's Theological Quarterly 30/iv (1986), 283-287.
The falling asleep in the Lord, following a prolonged illness, of its retired provost and professor of dogmatics, Professor Serge Verhovskoy, was an event in the history of St Vladimir's Seminary that marks the end of what can be called its "founding period."
Born in Sarzha, Russia, in 1907, Serge Verhovskoy emigrated with his parents and sisters in his early youth following the Revolution. He received his secondary education in Prague, Czechoslovakia. His entire upbringing took place, first in Prague, then in Paris, in the milieu of émigré intelligentsia, which strove to preserve its Russian identity following the upheaval in its native land. This intellectual tradition brought from Russia nevertheless implied an openness to European culture and education.
Although he was born in a traditionally Orthodox family, Serge Verhovskoy's deep personal interest in theology began with his participation in Conferences of the Russian Student Christian Movement. It was subsequently strengthened by his marriage to Olga Chetverikova, the daughter of a well-known priest, Fr Sergius Chetverikov. Fr Sergius, who died as a monk at Pochaev Monastery following World War II, was the long-time chaplain of the Movement, a graduate of a Theological Academy, and the author of a book on Paisy Velichkovsky.
As a student at St Sergius Theological Institute in Paris from 1932-36, Serge Verhovskoy developed his particular identity as a theologian, an identity that would remain with him all his life. Under the strong influence of Fr Georges Florovsky, he adopted a very critical attitude toward the "sophiology" of Fr Sergius Bulgakov — then dean and intellectually the dominant figure at St Sergius Institute. He developed as equally critical stance towards other trends, particularly Berdyaev's existentialism, which were popular among the Russian intellectual emigration in Paris. He was also suspicious of the Kasian (Bezobrazov) and Anton V. Kartashev. His systematic yet critical mind was constantly seeking theological concepts and formulations that without reservation could be called "true": not merely in a philosophical sense, or as a result of historical research, but "true" as God's revelation.
Together with this agonizing concern for truth, Verhovskoy was also a moral perfectionist. Seeking an incarnation of the faith which was not merely "ritual," he visualized Christian ethics, together with doctrinal truth, as the absolute demand of authentic Christianity.
Occasionally Serge Verhovskoy was criticized as a "naive realist," or as a "Protestant," because his Scripture-oriented thought, with its heavily moral overtones, at times bordered on Fundamentalism. He always fought back, however, with such conviction, with such authentic desire to convince, with such obvious love both for the truth itself and for his interlocutors, that his impact upon his many friends and students was unmistakable. Some of us—then young students—will always remember the interminable weekly sessions in Paris of the "Brotherhood of Christ the Savior," of which Verhovskoy was the chairman. At these sessions he read and discussed St Paul with both wit and conviction, tirelessly calling for a wholesome and serious acceptance of the New Testament message by Orthodox theologians. Innumerable students of St Vladimir's Seminary have the same image of him.
Serge Verhovskoy also paid his dues to philosophy. His graduation thesis at St Sergius dealt with "The Theory of ideas in F.A. Standenmeyer" and was later published in Pravoslavnaya Mysl' ("La Pensée Russe," vol. VII, 1949, p.32ff).
Following his graduation from St Sergius, Verhovskoy for a while held a secular job, then he was called to teach at the Institute in 1944 by his friend Fr Basil Zenkovsky, the newly appointed dean. He began teaching in the area of ancient and medieval philosophy (he had shown interest and competence in a critical study of Thomism), then he moved on to the field of Moral Theology. During that period, two of his major studies appeared in Russian, published in the periodical Pravoslavnaya Mysl': "On the names of God" (vol. VI, 1948, p. 37-55) and "Theological issues related to the dogma of Chalcedon" (vol. XI, 1953, p. 31-42).
In those fruitful years, which marked the beginning of his academic activities, he was something of a star-performer at meetings with Roman Catholic theologians (rare occurrences in those days), where his articulate and creative presentations of Orthodox Trinitarian theology impressed all present. (The text of one such presentation, "La Procession du Saint-Esprit d'après la Triadologie orthodoxe," appeared in Russie et Chrétienté, 1950, No. 3-4, p. 197-210).
A totally new period of his life began in 1952, when he disembarked in New York harbor with his wife and three daughters to begin teaching dogmatics at St Vladimir's. Then headed by Dean, Fr Georges Florovsky, the seminary was located in Manhattan. The first challenge it offered Verhovskoy was linguistic. He had to improve his English in order to lecture. This he did—not with great perfection, but with great zeal, reflected in his total dedication to the young, missionary community of American Orthodoxy. Continuing to write in Russian, he published Bog i chelovek ("God and Man") in 1955 through the Chekhov Publishing Company, with which he also edited a collective volume, Pravoslavie v zhizni ("Orthodoxy in Life"), in the same year. His major articles were published in English by the Seminary Press in 1982, under the title The Light of the World.
The resignation of Fr Florovsky in 1955 rather unexpectedly projected Verhovskoy into the position of being the real head of the school for a period of several years. He then bore the titles of provost and dean of students, and was successful in providing a quality of leadership which assured responsible continuity and progress. After 1962, with Fr Alexander Schmemann as dean, Professor Verhovskoy continued as provost, assuming responsibility for personnel, finances, and plant operation of the new campus located in Crestwood. He held this position until his retirement in 1981.
It is impossible to define, in a few words, the full extent of his responsibilities and actual contributions to the life of the seminary, to which he devoted practically all his time, even at the expense of further research and writing. He loved to teach, and he spent hours in meeting students. He was very personally concerned with the details of their lives, to the extent that some of them would say: "Fr Schmemann is our spiritual father, but 'Prof' is simply our father."
The loss of his wife Olga made the last years of his life much more difficult. But until the end, Serge Verhovskoy was surrounded by visiting former students, always ready to discuss with them the basics of the Christian faith, or else he was immersing himself in the writings of St John Chrysostom.
May his memory be eternal!