Image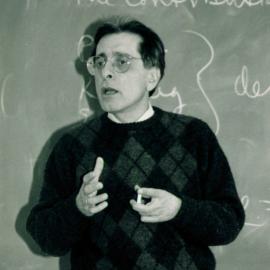 Dr. John Boojamra
Adjunct Professor
Director of Religious Education Program
Dr. John Lawrence Boojamra (August 6, 1942–November 11, 1999), was a native New Yorker. He attended Brooklyn College (City University of New York), earning a B.S. in 1964. From there he enrolled at St. Vladimir's Orthodox Theological Seminary, earning his Bachelor of Divinity Degree. After graduation, he spent time at the Ecumenical Institute of the World Council of Churches in Switzerland. He pursued graduate studies in Church History at Fordham University, studying with Fr. John Meyendorff, and earned his Masters and Ph.D. at Fordham. His doctoral dissertation in 1976 was titled "The Ecclesiastical Reform of Patriarch Athanasios of Constantinople (1289-1293; 1303-1309)."
Though it appears that he did not study religious education formally since he didn't earn his degrees in the field, his writings reference works by John Westerhoff, Berard Marthaler, Gabriel Moran and C. Ellis Nelson. By examining only his footnotes it can be seen that Dr. Boojamra began a deliberate conversation between sources from the history of the Eastern Christian Church and the religious education theorists of his day.
While pursuing his graduate studies at Fordham, Dr. Boojamra became a chemistry teacher in New York, teaching for nearly thirty years at the Brooklyn Technical High School. He also became involved in Christian education for the Antiochian Orthodox Christian Archdiocese of North America as well as through the pan-Orthodox educational agency, the Orthodox Christian Education Commission (OCEC), where he served as Executive Secretary. He also was the Director of Christian Education for the Antiochian Archdiocese for many years.
In these capacities, he oversaw the development of materials for Sunday schools that would be used by many Orthodox parishes in America. He also led workshops for teachers and wrote essays on Christian education for the Antiochian Archdiocese magazine, The Word. His scholarly articles on Orthodox Christian education provided a theoretical foundation for the educational ministry of the Orthodox Church.
Dr. Boojamra became an adjunct faculty member at St. Vladimir's in 1977, teaching courses in Christian Education and Church History for over two decades, and creating the Masters program in Christian Education. He influenced countless clergy and lay teachers, especially those who would serve in the Antiochian Orthodox Christian Archdiocese of North America and the Orthodox Church in America (OCA). His students became developers of resources and coordinators of Christian Education and youth ministry programs at the diocesan level. Foundations for Orthodox Christian Education (1989), which contains a collection of Boojamra's primary writings in the field, is still widely read.
In addition, he taught courses in Church History at Fordham University, and was one of the founding members of the Orthodox Peace Fellowship. After lecturing in Alaska for several summers, in 1985 he co-founded the Eagle River Institute in Orthodox Theology at the St. John Antiochian Orthodox Cathedral, outside Anchorage.
Dr. Boojamra was married to Stellie Ann Anagnos, who died in 1989. Their two children are Constantine and Nicole.
LINKS