Image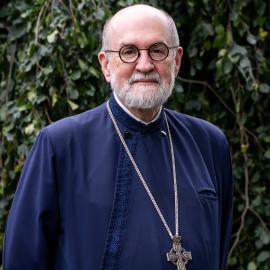 The Very Rev. Dr. Chad Hatfield
President of the Seminary
Rector of the Chapel
Interim Director of the Master of Divinity Program
Professor of Pastoral Theology
Archpriest Chad Hatfield is the president of St. Vladimir's Seminary. Father Chad came to SVOTS from St. Herman Seminary in Alaska, where he was serving as dean. His experience in various pastoral, teaching, and administrative roles, spread over more than forty years of ordained ministry, is now blended into his ministry of seminarian formation at SVOTS.
His wife, Matushka Thekla, is an integral part of seminary life where she is the Coordinator for the St. Juliana Society. An iconographer and graphic designer, she is currently finishing her certification as a botanical illustrator. They are the parents of Jason, who is married to Kasey, and who are the parents of Ryan, Morgan, and Braedon Richard. They live in Austin, Texas where Jason is a physician. Sean is the youngest Hatfield son, married to Maggie, and the couple lives in Wichita, Kansas, where Sean is a state district judge.
Father Chad was ordained to the diaconate and the priesthood by His Grace Bishop Basil of Wichita.
Educational Background
B.A., Southwestern College
M.Div., Nashotah House
S.T.M., Nashotah House
D.Min., Pittsburgh Theological Seminary
Teaching Interests
Pastoral Theology
Missiology
Current Projects and Research Interests
A missiology track for the M.Div. Program
Series Editor work for the SVS Press Profile Series and Mission and Orthodoxy Series
Religious liberty issues
Two summer courses and evangelization for the Coptic Seminary in Sydney, Australia
Recent Courses Taught at SVOTS
I currently teach PT208 Parish Administration, which is designed for seniors as a way to integrate their theological formation with practical application in parish life. The course covers topics of leadership; financial planning for parish and personal life (including pension and retirement); parish dynamics with councils, diocesan structures and volunteers (examined within the cultural context of a wider variety of Orthodox jurisdictions reflected in the traditions found in the senior class). My own 41 years of priestly ministry in parish, school chaplaincy, foreign mission, and higher education administration links well with the various vocational options found among SVOTS graduates.
I also teach electives on a rotational basis: Mission & Evangelism; Creating and Sustaining a Healthy Parish; Orthodoxy in the Third World: The Mission Continues; Evangelization and the Orthodox Church.  
The St. Innocent Society is a student interest group with an emphasis on mission. As the faculty advisor I help to facilitate extra-curricular activities including guest speakers on campus and service projects. Mission Team activities are coordinated with both Orthodox Christian Mission Center (OCMC) and International Orthodox Christian Charities (IOCC).
Selected Publications
Editor, Patriarch Daniel of Romania, SVS Press, 2021
"The Eucharist as Antidote to Secularism," in Healing Humanity, Holy Trinity Seminary Press, 2020
"Why our Conscience Belongs to God, not the State", in Life, Marriage and Religious Liberty, Fidelis, 2019
"Lessons Learned from the North American Saints" in Almanahul Credinta, 2019
"Resurrection and the Faith of Children" in Holy Week: A Series of Meditations, SVS Press, 2018
"Baptism and the Great Commission" in Holy Week: A Series of Meditations, SVS Press, 2018
Series Editor of the Orthodoxy & Mission Series, SVS Press, 2018 - present
Editor, Patriarch Kirill in His Own Words, SVS Press, 2016
"Anglicanism and Orthodoxy in the age of the 'New Ecumenism,'" Forward in Faith, October, 2015
Contributor to "Evangelism" entry in The Encyclopedia of Eastern Orthodox Christianity, Wiley-Blackwell, 2011
Recent Conference Presentations and Activities
225 Anniversary of the Kodiak Mission "Lessons from the Alaskan Saints", Princeton, NJ, 2019
Siriac Orthodox Youth Conference "Marriage and Orthodoxy", Paramus, NJ, 2019
Annual Lecture Series Tabor College "Christian Freedom and Patriarch Kirill of Moscow", Tabor, KS, 2019
10th Edition of the Orthodox Spirituality Symposium of the Romanian Orthodox Metropolia of the Americas "The Witness and Foundation for Mission in North American from the Lives of American Saints" Chicago, IL, 2018
Parish Life Conference, Phonenix, AZ, July 2016, and "Walk Through the Door of Holiness: An Ecumenical Conference Exploring Christian Character within Post-Christian Culture," Greenwich, NY October 3-5 2016
Presenter at Fordham University for Youth Ministry Conference with the Romanian Archdiocese of America, 2016
Keynote Speaker at the Team Chicago Mission Banquet, 2016
"Theosis & Marriage," IX World Congress of Families, Salt Lake City, UT, 2015
Presenter at the 1000th Anniversary of the Repose of St. Vladimir Conference, Moscow, 2015
Co-Chair of the Orthodox Church in America (OCA)/Anglican Church in North America Dialogue
Recent Awards
Doctor of Divinity Honoris Causa from the New Georgian University, Poti, Georgia
St. Andrei Saguna Cross and Award from The Metropolis of Transylvania, Sibiu, Romania
St. John Chrysostom Cross and Award for Theological Education from the Romanian Patriarchate, Bucharest, Romania
St. Macrina Award for Excellence in Teaching from St. Vladimir's Orthodox Theological Seminary
Doctor of Divinity honoris causa from Nashotah House Seminary
Distinguished Alumni Award from Nashotah House Seminary
Additional Certifications
Certificate in Fund Raising Management from Indiana University School of Philanthropy, 2015