Image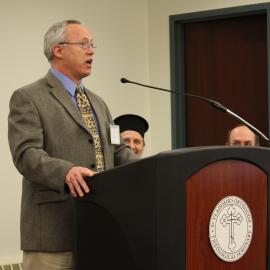 Dr. Paul Meyendorff
Father Alexander Schmemann Professor of Liturgical Theology, Emeritus
Paul Meyendorff was the Father Alexander Schmemann Professor of Liturgical Theology at St. Vladimir's Orthodox Theological Seminary from 1987 to 2016. He also served as academic dean, associate editor at St. Vladimir's Seminary Press, and editor of St. Vladimir's Theological Quarterly.
Active in the ecumenical movement, Professor Meyendorff has participated in the Faith and Order Commission of both the National Council of Churches (NCC) and the World Council of Churches (WCC). His ecumenical work dovetails with his responsibilities as an advisor to the Department of External Affairs of the Orthodox Church in America (OCA), a position he has held since 2000. Representing the OCA, he was a delegate to the 8th General Assembly of the WCC in Harare, Zimbabwe, in 1998; a consultant to the OCA delegation to the 9th General Assembly of the WCC, in Porto Alegre, Brazil, in 2006; and a delegate to the 10th General Assembly, in Busan, Korea, in 2013.  He is also a long-time member of the St. Irenaeus Orthodox-Catholic Working Group.
He is author of several articles and books, including from St. Vladimir's Seminary Press (SVS Press):
St. Germanus of Constantinople, On the Divine Liturgy, translation, introduction and commentary (1984).
Russia, Ritual, and Reform: The Liturgical Reforms of Nikon in the 17th Century (1991).
The Anointing of the Sick, Orthodox Liturgy Series 1 (2009).
The Service of the Anointing of the Sick, editor and translator (2009).
 He also is Editor of the Orthodox Liturgy Series of SVS Press.