Obren B. Gerich
Doctor of Humane Letters (honoris causa) 
18 May 2013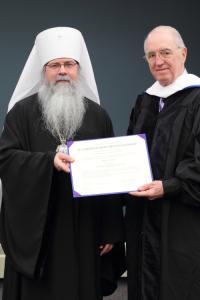 Met. Tikhon presenting Brian Gerich's honorary doctorateObren B. Gerich was born into a pious family of Serbian Orthodox parents in 1938 in Ventura, California. Within the family context created by Mr. Gerich's humble, hardworking, and God–fearing Orthodox Christian mother and father, kernels of charitable dedication towards others were nurtured in his heart.
Mr. Gerich completed high school and went on to Claremont Men's College, earning a Bachelor of Arts degree in 1960. He then earned a Master's Degree in Accounting in 1966 from the University of Southern California. Subsequently he was licensed as a Certified Public Account, Real Estate Broker, and Insurance Broker in the State of California. Currently, he is Senior Vice President of Public Storage, Inc., having previously served as Chief Financial Officer from 1976 to 1993; he has been with the company since 1974.
In addition to his resoundingly successful business and professional career, Mr. Gerich has spent much of his adult life in service and dedication to his local and national church, community, charities, and educational institutions. Using his prodigious intellectual and leadership skills, while always rooted in his love for Christ, he has been a member of St. Steven's Serbian Orthodox Cathedral, Alhambra, CA for sixty–one years. His distinguished charitable positions read as a litany of service and include membership as a Trustee of St. Steven's Cathedral Board (40 years); Treasurer of St. Steven's Serbian Orthodox Cathedral; retired Chairman of the Serbian Orthodox National Stewardship Committee; former board member of International Orthodox Christian Charities; Trustee of St. Vladimir's Theological Seminary (24 years) where he has established three scholarship endowments that have provided full annual scholarships for over 40 men and women, primarily of Serbian descent; Chairman of the Board of Directors of the Fellowship of Orthodox Christians United to Serve (FOCUS); and President of the Obren B. & Marilyn Gerich Family Foundation.
His public awards and honors come from religious and public sources. Mr. Gerich is the recipient of the Order of St. Sava, 3rd Degree from the Serbian Church (1993); The Order of St. Innocent, 2nd degree from the Orthodox Church in America (2002); and the Ellis Island Medal of Honor (2007).
Mr. Gerich is a consummate man of family and faith. Married to his beloved wife and life partner Marilyn (Maile) for 45 years, they have two daughters, Carrie Bullard and Julia Brankkovic, and son-in-laws Brain Bullard and Alex Brankovic, and many grandchildren.
St. Vladimir's Seminary is particularly grateful for Mr. Gerich's remarkable service, dedication, and financial support to the building up of the Seminary, where he has served on the Finance, Audit, Advancement, and Executive Committees. He was the Co–chair of the Seminary's first major Capital Campaign, successfully resulting in a tremendous expansion of the facilities and programs at St. Vladimir's. Mr. Gerich's outstanding financial gifts for the support of the Seminary are almost unmatched throughout his long remarkable tenure and service. He has demonstrated unselfish support of alumni work and the annual budget, and has provided remarkable major gifts to capital projects and the Seminary's endowment. His deep love for Christ and his constant struggle to improve his own spiritual life translates into deep care and concern for the students, faculty, staff, and alumni of this community.
Mr. Gerich's childhood kernels of dedication and service have borne a rich harvest: building up local and national church institutions, feeding and clothing the poor, supporting children, demonstrating care for the handicapped, funding Orthodox Christian projects, and educating those who thirst to know Christ. His exemplary and courageous actions demonstrate his honorable leadership in word, deed, and thought.
CITATION
"For where your treasure is, there your heart will be also" (Luke 12:34). These words manifestly describe your actions and what lies at the center of your heart, Obren B. Gerich: 
Using your God given talents by gentle and persuasive words and bold deeds that challenge others, you are a builder and beautifier of all that is good and in need of your sacrificial time and resources; 
Freely giving your wisdom and counsel, you lead through genuine example and faith; 

A discerning judge of what is practical and sound, you are not dissuaded to implement what to others are only dreams;
With a life characterized by personal and professional achievements and honesty, rooted in the love of family and fed by faith, you freely give of earthly treasure while your heart burns for the love for Christ;
Truly we may say that you are a philanthropist—a Christ-centered friend and honorable human being.

Therefore it is with great honor that:
The Board of Trustees of St. Vladimir's Orthodox Theological Seminary, by unanimous decision  and by the power vested in them by the Board of Regents of the State of New York, bestows upon Mr. Obren B. Gerich the degree of Doctor of Humane Letters (D.H.L.) honoris causa.