#give2svots
For such a time as this, in our dark and confused world, YOU make it possible to send out priests and lay leaders to spread the Light and Hope of Christ, both near and far.
This Giving Tuesday, November 30, 2021, will you help cover the cost to educate just TWO seminarians each year: $125,000? Click HERE to donate.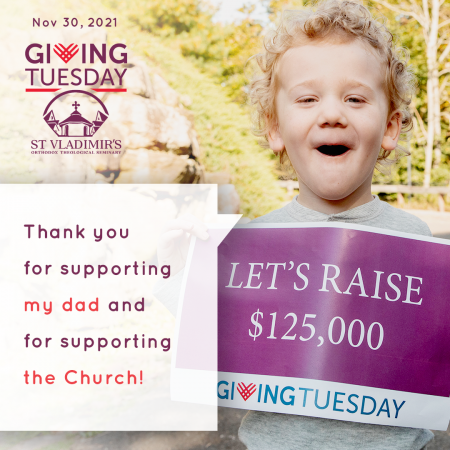 Why Give?
Saint Vladimir's Orthodox Theological Seminary (SVOTS) is not funded by any church institution or by the government, so we rely on the generosity of donors each year to raise funds to operate the Seminary and train seminarians. It takes approximately $63,000 to train one seminarian each year, and SVOTS pays more than 80% of that cost itself to keep tuition low—and in many cases FREE—for all who are called to serve Christ and his Church. That's where YOU come in! Seminarians and their families have left careers, homes, and more to follow Christ to Seminary, even in these uncertain and trying times. Will you ensure their education is paid for?
How to Donate
Support St Vladimir's with a gift of any size!
Give online anytime between now and 11:59 p.m. EST on November 30, 2021
Give over the phone

—

we'll be here at 914-961-8313 x360 between 8 a.m. and 5 p.m. EST (email GivingTuesday@svots.edu after hours)
Mail us your check dated November 30, 2021 to 575 Scarsdale Rd, Yonkers, NY, 10707 (write "#GivingTuesday" on the memo)
Minister With Us!
Of course, you may donate any amount now, but you may also encourage others to give by sharing why you gave! Make sure to include in your post the link to this donation page, svots.edu/givingtuesday. And don't forget to follow us on social media for updates on our progress and "like" or share our #GivingTuesday posts on Facebook, Twitter, and Instagram.