Image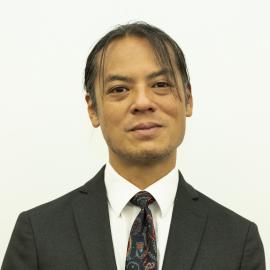 Dr. Michael Legaspi
Associate Professor of Old Testament
Raised as a Roman Catholic, I attended Protestant churches as a teenager and young adult. Years of persistent questions and quiet dissatisfaction prompted me to inquire into the nature and identity of the ancient Christian church. I made my way to the works of the Church Fathers, but it was the writings of contemporary authors, especially Fr. Alexander Schmemann, that first opened my eyes to the beauty, richness, and truth of Orthodoxy. My family began attending an Antiochian Orthodox Church (St. John Chrysostom in York, PA), and we were received into the Church by chrismation in 2004. Since that time, we have been a part of parishes representing several jurisdictions, not only Antiochian but also Greek, Russian, and OCA churches as well. My wife, Abby, and I have four grown children: Josiah, Sister Glykeria, Ana, and Cato.
Educational and Professional Background
As an undergraduate at Johns Hopkins, I focused on languages with the goal of becoming a professor of biblical studies. At that time, I began my study of Hebrew and Greek, while also studying French and German. After graduation, I taught world history and Bible at the secondary level for four years. In 1999, I began doctoral studies at Harvard University, pursuing a Ph.D. in Hebrew Bible in the Department of Near Eastern Languages and Civilizations.
While at Harvard, I received training in all aspects of historical criticism. The subject that intrigued me most, however, was the history of biblical scholarship, for it seemed to shed the most light on the larger aims and purposes of the scholarly enterprise. Working with intellectual historian Ann Blair and biblical scholars Peter Machinist and Jon Levenson, I wrote my dissertation on the role of Johann David Michaelis (1717-1791) in the development of biblical studies within the context of the modern university and the German Enlightenment. In 2010, a revised version of the dissertation was published by Oxford University Press as The Death of Scripture and the Rise of Biblical Studies.
Soon after I completed my Ph.D., I became interested in the concept of wisdom. I took part in the Templeton Foundation's Defining Wisdom project and eventually wrote a book, Wisdom in Classical and Biblical Tradition, which was published by Oxford University Press in 2018. As a faculty member at Creighton University (Theology; 2006-2010), Phillips Academy (Philosophy and Religious Studies; 2010-2014; 2020-2022), and Penn State University (Classics and Ancient Mediterranean Studies; 2014-2021), I worked on projects related both to wisdom and the history of scholarship. And now, as a member of the SVOTS faculty, I look forward to continued work in these fields as well as exegetical work informed more deeply by Orthodox Tradition.
Teaching Interests
At my previous schools, I taught courses in a variety of fields: ethics (introductory), biblical studies (introduction to Old Testament; introduction to New Testament; wisdom literature; the Apocalypse of St. John), and philosophy (introductory; existentialism; philosophy of religion; the philosophy of Bruce Lee).
At SVOTS, I will offer courses principally in biblical Hebrew and Old Testament studies. My hope is to explore the embeddedness and resonance of Scripture in Orthodox Tradition, while also introducing students to the aims and methods of modern scholarly approaches. I also look forward to continued engagement with philosophical topics in courses that illuminate the intellectual-historical backgrounds of theology in ancient, medieval, and modern contexts.
Current Projects and Research Interests
Most of my publications in the history of scholarship have concerned developments in western Europe in the seventeenth and eighteenth centuries, phases and figures of what is broadly referred to as the Enlightenment. Motivating much of this research has been a concern to understand what, exactly, makes modern critical scholarship modern. The feature of modern scholarship most often indicated in this regard is a preoccupation with the history of all aspects of biblical texts: historical criticism or historical-critical method. I believe that modern preoccupation with history must itself be explained and that modern conceptions of history (which are not intellectually inevitable) must be interrogated. I hope, in future work, to extend my investigation of critical scholarship in the late eighteenth century to the philosophical backgrounds of historical criticism in the early eighteenth and nineteenth centuries. Due to the predominance of Catholic, Protestant, and post-confessional work in this field, Orthodox perspectives on historical questions such as those that arose in the Enlightenment have not received their due.
Another area of interest is biblical theology. Once considered a moribund enterprise, biblical theology gained new vitality in the last fifty years with the canonical approach of Protestant scholar Brevard Childs. Even more recently, theologically minded scholars not oriented to the impact of "canon" as such have nevertheless forged new paths in "theological exegesis" or "theological interpretation of Scripture." To Orthodox scholars attuned (as we are) to the embeddedness of Scripture in Holy Tradition, the idea of confining theological description to what may be found in the Old and New Testaments may seem unnecessarily restrictive, perhaps even wrongheaded. Yet there is much to be gained from disciplined attention to specific parts or aspects of the biblical corpus, most notably a deeper understanding of the profound concord that exists among all aspects of the Tradition. Here we encounter a virtuous circle. One must grasp something of the whole in order to understand Scripture, but one also studies Scripture in order to know more accurately how to speak about the whole. At the moment, I am writing a commentary on the book of Job (based on the Hebrew text but informed by the Greek versions). In future, I hope to write a broader work of biblical theology whose themes are informed, specifically, by the phronema of the Orthodox churches.