Image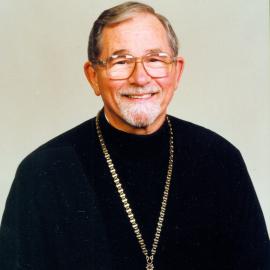 Protopresbyter Thomas Hopko
March 28, 1939–March 18, 2015
Dean
Professor of Dogmatic Theology
Rector of Three Hierarchs Chapel
Protopresbyter Thomas Hopko [March 28, 1939–March 18, 2015], was dean emeritus of St. Vladimir's Orthodox Theological Seminary, Yonkers, NY, and a noted Orthodox Christian priest, theologian, preacher, and speaker.
Thomas John Hopko was born in Endicott, NY, on March 28, 1939, the third child and only son of John J. Hopko and Anna [Zapotocky] Hopko. He was baptized and raised in St. Mary's Carpatho-Russian Orthodox Greek-Catholic Church, and educated in Endicott public schools, graduating from Union-Endicott High School in 1956.
Father Thomas graduated from Fordham University in 1960 with a bachelor's degree in Russian studies. He graduated with a theological degree from St. Vladimir's Orthodox Theological Seminary in 1963, from Duquesne University with a master's degree in philosophy in 1969, and he earned his doctorate degree in theology from Fordham University in 1982. 
Ordained to the Holy Priesthood in August 1963, Fr. Thomas served the following parishes as pastor: Saint John the Baptist Church, Warren, OH (1963–1968); Saint Gregory the Theologian Church, Wappingers Falls, NY (1968–1978); and Saint Nicholas Church, Jamaica Estates, NY (1978–1983). Father Thomas was honored with the clerical rank of Archpriest in 1970 and the rank of Protopresbyter in 1995.
Beginning in 1968, Fr. Thomas began his long service to St. Vladimir's Orthodox Theological Seminary. Over the years, he held the following positions at the school: Lecturer in Doctrine and Pastoral Theology, 1968–1972; Assistant Professor of Dogmatic Theology, 1972–1983; Associate Professor of Dogmatic Theology, 1983–1991; Professor of Dogmatic Theology, 1991–1992; Dean, Rector of Three Hierarchs Chapel, and Professor of Dogmatic Theology, 1992–2002.
During his years of priestly ministry, Fr. Thomas authored numerous books and articles. Most well known of these publications is The Orthodox Faith: An Elementary Handbook on the Orthodox Church.  A prolific speaker and preacher, he spoke at conferences, retreats, public lectures, and church gatherings of all kinds, many of which were recorded. Fr. Thomas performed countless duties on behalf of the Orthodox Church in America (OCA), including representing the Church at intra-Orthodox gatherings and ecumenical meetings.
Upon retirement, Fr. Thomas and his wife, Anne, whom he married in June 1963, moved to Ellwood City, PA, where they lived near the Orthodox Monastery of the Transfiguration. There, Fr. Thomas began a new ministry: internet-based Orthodox Christian radio talks. Since 2008, Fr. Thomas has produced well over 400 podcasts for Ancient Faith Radio, mostly within his signature series, "Speaking the Truth in Love."
Father Thomas exercised untiring and loving pastoral care on behalf many who sought him out for spiritual guidance. His greatest desire was that every person would respond to these words of Jesus Christ: "Come to me, all who labor and are heavy laden, and I will give you rest." (Matthew 11:28). He reposed in the Lord on March 18, 2015.