Image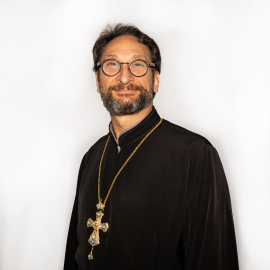 The Very Rev. Dr. Eric Tosi
Assistant Professor of Pastoral Theology
The Very Rev. Dr. Eric Tosi is assistant professor of pastoral theology at St. Vladimir's Seminary, chairman of the Commission on Missions and Evangelism for the Diocese of New York and New Jersey (Orthodox Church in America), and rector of St. Gregory the Theologian Church in Wappingers Falls, NY. Father Eric possesses a wealth of diverse experiences and knowledge as a priest and educator. In addition to his current ministries, he was secretary of the OCA, longtime chairman of the OCA's Department of Evangelization, a mission priest in Billings, MT, and parish priest in Las Vegas, NV. Father Eric also served as a captain in the U.S. Army and held other positions in the business world.
Educational Background
Fordham University, Dual B.A. in Economics and History, 1986
Fordham University M.A., European History, 1993
St. Vladimir's Orthodoxy Theological Seminary, Master of Divinity (cum laude), 1996
University of Toronto (Trinity), Doctor of Ministry, 2015
Publications
"Our Favorite Task: Equipping the Saints from an Orthodox Perspective" chapter in Reflecting and Equipping For Christian Mission edited by Steven Bevans, Teresa Chai, J. Nelson Jennings, Knud Jorgenson and Dietrich Werner (Regnum Books International: Oxford UK, 2015)
"Koinonic Evangelism: The Community as the Evangelist" chapter in The Mission of God: Studies in Orthodox and Evangelical Mission edited by Mark Oxbrow and Tim Grass (Regnum Books International: Oxford UK, 2015)
"Teaching the Bible: How Can We do This Better Together" chapter in Living the Gospel of Jesus Christ: Orthodox and Evangelical Approaches to Discipleship and Christian Formation edited by Mark Oxbrow and Tim Grass (Regnum Books International: Oxford UK,2021)
Papers Presented
"Evangelistic Paradigm of Ss Cyril and Methodius as Applied to the Orthodox Church in America"  (Unpublished, 2011)
"Evangelism in the Early Church" (Unpublished, 2011)
"Theology of Evangelism in the Orthodox Church" (Unpublished, 2011)
"Can the Orthodox Accept the Theology of Missio Dei?" (Unpublished, 2014)
"A Strong Echo in the World: The Manifestation of the Fool for Christ in the North American Context" (Unpublished, 2019)
Co-presented paper with Charles Fensham entitled "Not so Far West: Taking Mission out of Missiology," at American Society of Missiology, 2012
Presented paper entitled "Is there an Orthodox Christian Diaspora: A Perspective from the Orthodox Church in America" at Overseas Mission Study Center: Mission Leadership Forum, 2015
Presentations
Lausanne Orthodox Forum Tirana, Albania 2015, Cambridge, UK 2017, Boston, MA, 2019
Overseas Mission Study Center, New Haven, CT, 2015
World Council of Churches Conference on Mission and Evangelism. Arusha, Tanzania, 2018
Small Parish Forum, 2016
Diocese of Sourazh, 2015, 2019
St. Vladimir's Orthodox Theological Seminary virtual Education Day "Orthodoxy and Evangelism", Cleveland, OH, 2021
Numerous articles for The Orthodox Church, The Orthodox Vision, Koinonia, OCA Website, etc.