Image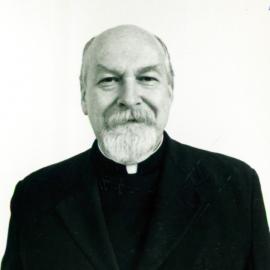 Very Rev. Paul Schneirla
Professor of Old Testament
Longtime St. Vladimir's Seminary's Old Testament professor, The Very Rev. Paul Schneirla, who was also pastor emeritus at St. Mary's Antiochian Orthodox Church in Brooklyn, NY, reposed in the Lord September 20, 2014, at age 98.
Father Paul came to St. Vladimir's as a student in the early 1940s, when the campus was still located in New York City. He was ordained a priest in 1943 and served Antiochian Orthodox parishes in Iron Mountain, MI and Allentown, PA before moving to New York to serve at St. Mary's in Brooklyn, from 1951 until his retirement in August 2002.
Former St. Vladimir's Dean and Peter N. Gramowich Professor of Church History, Emeritus, The Very Rev. Dr. John Erickson, remembered him as "urbane, witty, and well-read."
"Father Paul's familiarity with all aspects of twentieth-century Orthodoxy was legendary," Fr. John recalled, "but conversations with him were not limited to ecclesiastical matters. They could include anything from the gold fields of Alaska (where he was born) to Pharaonic Egypt.
"Father Paul's pastoral ministry also deserves special mention," he continued. "It extended beyond the usual church contexts. He seemed to sense when a parishioner or friend was in need of a cheery phone call."
Librarian Eleana Silk remembered, "Fr. Paul's favorite phrase, when asked how he was, was always 'never better, never better.'
"He often came to use the library after he retired from teaching at St. Vladimir's," added Ms. Silk. "We were in the old building then, and the light was not very good in the (library) stacks, so he brought his own flashlight!"
As a priest within the Antiochian Orthodox Christian Archdiocese of North America for 71 years, Fr. Paul served as the first chairman of its Department of Christian Education, as dean of the Atlantic Deanery, and as the first editor of The WORD magazine. A tireless advocate for Orthodox unity in America, Fr. Paul worked under the direction of hierarchs Metropolitan Antony Bashir (+1966) and Metropolitan Philip Saliba (+2014), as the Archdiocese's Ecumenical Officer.  
A charter member of the Orthodox-Anglican, Orthodox-Roman Catholic, and Orthodox-Polish Catholic ecumenical dialogues, Fr. Paul had been a member of the General Board of the National Council of Churches (NCCC) since the 1940s and was the last surviving member of the original founders of The Standing Conference of the Canonical Orthodox Bishops in the Americas (SCOBA). In 2007 SCOBA, the predecessor to the Assembly of Canonical Orthodox Bishops of the United States of America, recognized Fr. Paul in a December 10 resolution that cited his "lengthy and extraordinary" support for inter-Orthodox development and communication.
As a young man, Fr. Paul had converted to Orthodox Christianity from a Protestant background. Years after his priestly ordination, his interest in the Western Rite was rekindled by a visit to a parish of that Rite within the Romanian Orthodox jurisdiction in Paris, France. Subsequently, he wrote and lectured extensively on the topic and encouraged Metropolitan Antony Bashir to allow its practice and development within suitable congregations. He also served as the Antiochian Archdiocese's Western Rite Vicar General for many years.
Father Paul was married for 70 years to Khouria Shirley, who reposed in 2012. The couple were parents of three children: Dorothy Downie Orrill and Peter Christian Schneirla, and the late William Sutfin Schneirla, Jr.