Image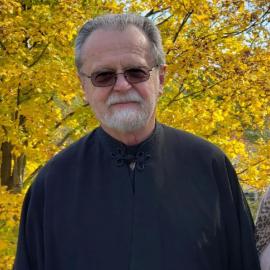 The Rev. Dr. Anthony G. Roeber
Professor of Church History
Fr. Anthony Roeber attended the The Pontifical College Josephinum from 1963 to 1969 and earned his B.A. and M.A. at the University of Denver, a second A.M. and his Ph.D. at Brown University, and his M.A. in Applied Orthodox Theology from the Balamand University, Lebanon. He has taught at the University of Denver, Princeton, Lawrence University, the University of Illinois-Chicago, and the Chicago-Kent Law College, and from 1996 to 2017 at Penn State University, University Park where he served as department head for ten years. He is now Professor Emeritus of Early Modern History and Religious Studies. He served concurrently as Co-Director, Max Kade German-American Research Institute, and Co-Editor of the Max Kade Book Series, PSU Press.
He has held grants and fellowships from American and foreign sources including the National Endowment for the Humanities Fellowships, the Alexander von Humboldt Foundation Fellowship, grants from the American Council of Learned Societies, the American Bar Foundation, the Colonial Williamsburg Foundation, and the Fritz Thyssen Foundation, and was 1993 co-winner of the American Historical Association's John Dunning Prize. The author of some 50 articles, six books, and three edited volumes, his most recent publications include "Orthodox Christians and Biblical Studies: A Historian's Perspective," Greek Orthodox Theological Review 63:1/2 (2018); Mixed Marriages: An Orthodox History (2018); Ed., Human v. Religious Rights? (2020); Orthodox Christians and the Rights Revolution in America (2023).
Educational Background
B.A. University of Denver
M.A. University of Denver
A.M.  Brown University
Ph.D.  Brown University
M.A. Balamand University
Teaching Interests
The history of marriage, Orthodox, Roman Catholic, and Protestant
The Orthodox and the Human Rights Tradition
Early Modern Europe, legal and religious traditions
Orthodox Christianity in the U.S.
Current Projects and Research Interests
Moderator, Orthodox Theological Society in America Working Group on Mixed and Disparate Marriages

Senior Fellow, Orthodoxy and Human Rights Project, Fordham University Orthodox Christian Studies Center
Recent Courses Taught at SVOTS
CH 110
CH 344/444
Selected Publications
Changing Churches: An Orthodox, Catholic, and Lutheran Theological Conversation (Eerdmans, 2012)
Hopes for Better Spouses: Protestant Marriage and Church Renewal in Early Modern Europe, India, and North America (Eerdmans, 2013)
"The Influence of the Orthodox Churches on Western Theologies," in Ulrich Lehner, Richard Muller, and A.G. Roeber, eds., The Oxford Handbook of Early Modern Theology (NY and Oxford, 2016), 517-30.
"The Bible and Orthodox Christianity," in Paul Gutjahr, ed., The Oxford Handbook of the Bible in America (New York and Oxford, 2017), 531-41.
"Orthodox Christians and Biblical Studies: A Historian's Perspective," Greek Orthodox Theological Review 63:1/2 (2018)
Mixed Marriages: An Orthodox History (2018)
Ed., Human v. Religious Rights? (2020)
Orthodox Christians and the Rights Revolution in America (2023)
Recent Conference Presentations and Activities
Chair and Participant, Webinar, "Mixed Marriages," Orthodox Theological Society, May 29, 2021

Presenter, "COVID and the Eucharist," Orthodox Theological Society, August 22, 2020

Slightly expanded version presented at November, 2021 OCAMPR annual meeting