Image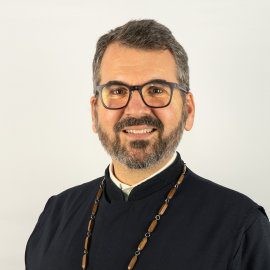 The Very Rev. Dr. Sergius Halvorsen
Assistant Professor of Homiletics and Rhetoric
The Very Rev. Sergius Halvorsen is assistant professor of Homiletics and Rhetoric at St. Vladimir's Seminary, and serves as director of the Doctor of Ministry Program. In addition to teaching homiletics and preaching, he also teaches courses in apologetics, faith and science, and Christian education. Fr. Sergius is a priest of the Orthodox Church in America and is attached to Christ the Savior Church in Southbury, CT. He is an accomplished liturgical musician and has contributed to a number of "Archangel Voices" recordings. He currently lives in New Haven, CT with his wife and three children. He loves gardening, hiking, biking, and reading biographies and fiction.
Educational Background
B.A. Biology, University of California, Santa Cruz, 1992
M.Div., St. Vladimir's Seminary, 1996
Ph.D., Drew University, 2002
Teaching Interests
Homiletics, Rhetoric, Apologetics, Faith and Science, Christian Education, Distance Learning
Current Projects and Research Interests
Iconic Biblical Preaching is a book for preachers who deliver homilies within the sacred rhetorical context of the Eucharistic liturgy. Grounded in the Bible and the church fathers, this practical guide shows you how to: teach the transformative message that God is speaking to you and your community today; delight your hearers with the Word of God using rich and compelling imagery; persuade and be persuaded by Christ who calls all to salvation. In Iconic Biblical Preaching, both beginning preachers and seasoned experts will be rewarded with a robust and engaging approach to the ministry of the Word of God. Expected publication, Spring 2020.
Recent Courses Taught at SVOTS
Homiletics, Apologetics, Faith and Science, Christian Education